Jay Copley Officially awarded the nation's second highest award for valor...The Distinguished Service Cross for action on May 5, 1968, while Commanding Charlie Company at An Bao in the former Republic of South Vietnam.

CITATION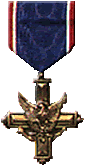 The President of the United States of America, Authorized by act of Congress, 9 July, 1918, has awarded the Distinguished Service Cross to

Captain Jay C. Copley (Retired)
United States Army

For extraordinary heroism in action:

Captain Jay C. Copley distinguished himself by acts of gallantry and intrepidity above and beyond the call of duty while serving as Commanding Officer, Company C, 1st Battalion, 50th Infantry, 173rd Airborne Brigade on 5 May 1968 while engaged in armed conflict with a regimental sized force of the North Vietnamese Army, in Binh Dinh Province, South Vietnam. Ordered to relieve Company A, which was surrounded by and under withering small arms, machine gun and rocket propelled grenade fire from the enemy, Captain Copley, upon arrival and without hesitation brought the fight to the enemy. In the face of intense fire and at great personal danger, Captain Copley's actions and his undaunted leadership disrupted the attack on Company A and resulted in the enemy being routed, saving countless soldier's lives. During the ensuing engagement, the enemy force made repeated attempts to consolidate their positions and on each occasion Captain Copley fearlessly moved across the fire-swept terrain directing the relentless attack of his soldiers. Captain Copley suffered life threatening wounds but he continued to press the fight. Only after securing the battlefield and ensuring the safety of his men did Captain Copley consent to being airlifted to receive further medical aid. His bold initiative and resolute determination contributed inestimably to the accomplishment of his unit's mission. Captain Copley's selfless leadership, courageous actions, and extraordinary devotion to duty are in keeping with the finest traditions of military service and reflect great credit upon himself, the 1st Battalion, 50th Infantry, 173rd Airborne Brigade and the United States Army.