VOL. II, NO.5 1 March 1969

BONG SON- The 173d Airborne Brigade recently terminated three combat operations which accounted for nearly 2,000 Viet Cong and North Vietnamese Soldiers killed during the past year.

The Sky Soldiers conducted Reconnaissance in Force, Search and Clear type operations in three primary areas; around An Khe (Operation Walker), the coastal mountains west of Tuy Hoa (Operation Bolling/Dan Hoa) and heavily populated Binh Dinh Province (Operation Cochise/Dan Sinh).

Operation Cochise, which commenced 31 March 1968, featured Reconnaissance-in-Force operations against the 3d NVA Division, the 22d NVA Regiment and several Viet Cong local force Battalions. In 10 months, the Brigade accounted for 929 enemy dead, 1,987 detainees, 122.1 tons of rice and 247 pounds of documents, 233 individual and 22 crew served weapons.

The operation was highlighted by heavy contact by the 1st Battalion (Mechanized) 50th Infantry, during May, accounting for 329 KIA, a joint sweep and clear operation, titled 226, with the 40th ARVN Regiment during September which ended with over 300 confirmed Viet Cong killed or apprehended and the largest money cache of the war, $150,000 in 50-dollar greenbacks, found in July.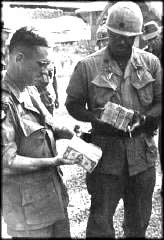 During the operation, the Brigade expelled the 3d NVA Regiment from the province, totally secured coastal highway QL 1, and from Qui Nhon to the southern border of I Corps and conducted extensive pacification programs.

In Operation Bolling, which began in October 1967, elements of the Brigade killed 705 enemy, apprehended 2488 suspects and captured 237 individual weapons.

Two major battles occurred during the Operation, the first in January 1968 when the 4th Battalion, 503d Infantry decimated a Battalion from the 95th NVA Regiment at Tuy Hoa North Airfield, killing 189, and the second in March, when Delta Company, 16th Armor killed over 200 NVA and VC in a four hour battle.

Operation Walker, with the purpose of providing security for highway QL 19 between the port of Qui Nhon and the central highlands, resulted in 272 enemy killed since January 1968.

Replacing the three terminated operations are Operation Dung Cam/Lee (Cochise), Li Do/Wainwright (Bolling) and Suc Manh/Marshall (Walker).