VOL. I, NO.10 25 November 1968

BONG SON- "It's nice to be a 'short-timer,' but, I'm going to miss a lot of guys I've met on my tour over here."

The monsoon rain beat steadily on the canvas tent as Diane Steinhauser of Germantown, Pa recalled her experiences as a Red Cross Representative in Vietnam.

Diane is a member of what seems to be a hopelessly outnumbered group involved in the war, 106 'Donut Dollies' to 500,000 American troops.

When asked how it felt to be a girl tossed into a man's world Diane's face turned thoughtful and she said: "The men look at us as girls, sure, but what they are really seeing is any girl anywhere. Our uniform is simply an impersonal reminder of their wife or girl back in the States."

The six young ladies assigned to the 173d Airborne Brigade are all well-versed college graduates and all unmarried.

Sharon McCullough of Blytheville, Ark told of some of the reactions from field-hardened Paratroopers when they first see a female walking around their sandbag and canvas world.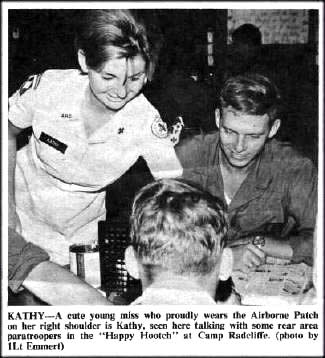 Shy Soldiers
"When the men see us," remarked Sharon, "some of them wave, some shout, some whistle and a lot just stare. It's strange how shy a lot of them are. You'd think they were meeting a girl for the first time."

For the girls it's a lot of work getting out to see the troops. They travel quite a bit. It is a necessity if they are to visit as many units as possible.

One soldier, Sp4 Thomas Dvorak of Echo Company, 2nd Battalion, 503d Infantry, claims that the girls are one of the biggest boosts to a Soldier's morale in Vietnam. "I remember one real cute blonde who visited us once," he said. She ate in our messhall and you know something, the food even tasted better that day."

Another Paratrooper remembered the time he was in the hospital in Qui Nhon. Those girls were the prettiest things I'd seen in a long time."

Comfort Packets
When the Donut Dollies visit the hospitals, they bring special Red Cross 'comfort packets', of reading materials, puzzles and word games.

"The games are pretty simple to do,-- said Betty Jolley, a fetching brunette from Charlotte NC, but they help to break the ice. Most of the guys haven't seen an American girl for months and sometimes they are a little nervous. The comfort packs help keep them busy and keep them from getting bored too."

Diane, a tow-headed 21 year old with sparkling blue eyes, has been in Vietnam for eleven months, but hardly looks like a veteran.

Nevertheless, she confesses to be Airborne at heart, though; having never jumped from a plane, and will show you her floppy 'jungle hat' with its yellow inner-brim where she wears a bright pair of Jump Wings.

Diane defends the reputation of the American Soldier by saying, "the GI is really the most underrated guy in the world. He deserved a lot more credit than he is getting."


Miss the Most
What do the girls miss the most in this hot, faraway country?

Diane says the first thing she is going to find when she returns to the States is an ice-cold lemon ice cream soda. Betty, with just three months in country, asserts that it is difficult to become accustomed to the hot weather, especially when it comes to using make-up.

The Red Cross began sending 'Donut Dollies' to Vietnam in 1965, with the idea that they would direct Red Cross recreational facilities for American Servicemen. But, since there are so many troops stationed in isolated spots like Fire Support bases, the girls became sort of roving ambassadors of good will, bringing a little charm and femininity to these out of the way places.

The girls quickly become used to flying in helicopters, and on a busy day will travel over 300 miles.

Very Rewarding
All of the girls tell of rewarding experiences they've had, such as when they stopped at a Fire Support base near Bong Son. It was mid-July and very hot. Soft drinks were scarce and ice was virtually nonexistant However one trooper dug into the bottom of his rucksack and pulled out a can of soda, giving it to Diane with a shy grin. "It was the warmest soda I've ever drank," recalled the pretty blonde, "but it tasted delicious at the time."

"Yes, it sure is nice to be a 'short-timer' smiled Diane as she rushed to climb aboard a waiting helicopter, "but you know, I wouldn't trade this past year for anything. Just watching the spirit and morale of these guys has helped my own outlook about the future immensely."
The Chopper Pilot smiled as she bounced into the aircraft. "Where to, MISS ?"