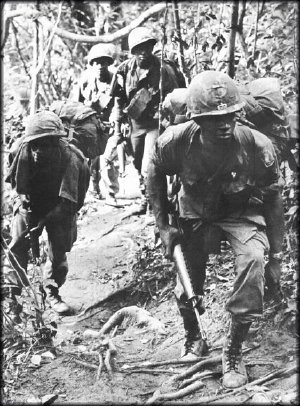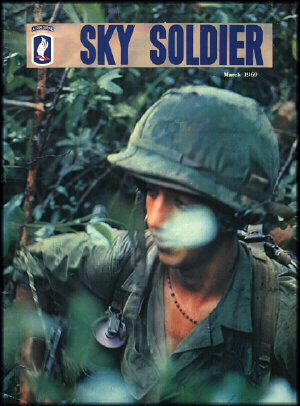 Front Cover and Inside Front cover
---

Contents

Volume 2, Number 3

March 1969

2. Taking Charlie's Tactics
Dogged Paratroopers bewilder enemy

8. A Professional Breed
No two days the same for Crew Chiefs

12. The Airborne Express
C S&S Truckers never let up

14. A Precarious Way of Living
Pointmen take pride in avoiding disaster

17. Tips from Madison Avenue
Chieu Hoi is an Ad Man's Dream

20. Complicated Combat Mission
RTO's can make or break a Company

26. How Ya Gonna Act ?
Chaplains see refreshing new ethical standards

Other Items
11. Olive Drab and Useful

11. Sky Soldier of Month

22. Change of Command

23. 1/50th Routs Ambush

24. Supply Never Stops

28. The Four Deuce

1Lt Thomas E. Gardo
Editor

Commanding General
Brig Gen John W. Barnes

Deputy Commander
Col Joseph R. Franklin

Executive Officer
LTC John D. Bethea

Command Sergeant Major
Sgt Major John Bittorie







SKY SOLDIER magazine is an authorized publication of the 173d Airborne Brigade. It is published quarterly by the Brigade Information Office for the Sky Soldier Association. Opinions expressed are not necessarily those of the Department of the Army.







The 173d Airborne Brigade Sky Soldier Association exists for the benefit of the trooper. The association is a non-profit organization managed by selected members of the Brigade.







Cover Photos- Front cover by Sp4 Jon Hosier; 1/503d Sky Soldier waits in the jungle near Bong Son. Rear cover by Sp4 Jon Hosier; 1/503d troops rest in a rice paddy. Front inside by Sgt John McCulloch; 2/503d searches for NVA. Back inside by Sp4 Adian Acevedo; 2/503d makes another move from LZ English.







Pg 1
---
The squawk box crackled continuously as Field Commanders relayed their situation reports to the Brigade Tactical Operations Center. It was warm, but not uncomfortably so, and in the soft fluorescent glow, Sergeants and Junior Officers wasted no motion in collecting data, registering reports and marking the green and brown operational maps which blanketed the walls of the thickly sand-bagged nerve center.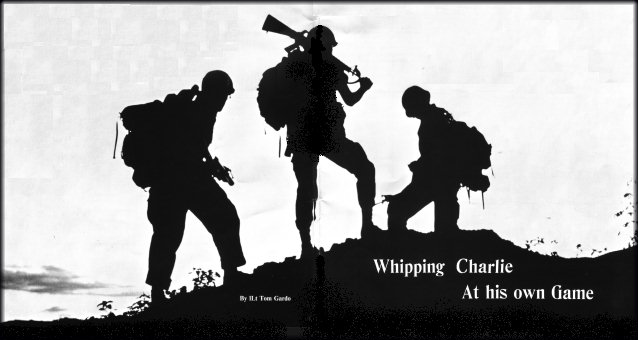 Inside a nearby room, away from the garbled din, a stocky, squarejawed Major fingered the papers strewn on his desk, and chewed viciously on a stubby brown cigar.
Intelligence reports had been increasing that the 18th NVA Regiment might be preparing harrassing attacks against several pacification villages west of Highway One. Major Arthur C. Stang III of Ridley Township Pa, jammed the cigar into a makeshift ashtray and reached for the phone.
Minutes later a team from the 74th Infantry Long Range Patrol were being summoned for a reconnaissance mission to take place the following morning, and Major Stang was across the corridor in conference with Major Kenneth W. Accousti of Stamford, Conn, the Brigade Operations Officer, discussing details on how to get some Hawk teams from the 1st Battalion, 503d Infantry into the area.
Within hours, the plan was set, and by morning Brigadier General John W. Barnes had been briefed on the small operation which would ultimately send the VC scattering back into the jungle, bewildered about how the 173d Airborne Brigade had again beaten them to the punch.
Operating on the concept, "an ounce of prevention is worth a pound of cure," elements of the 173d Airborne Brigade during the months of December, January and February broke down into increasingly small units, sought out the enemy into his own Jungle sanctuaries and then whipped him at his own game of ambush and harrassment.
"In our area of operations," explained Brigadier General John W. Barnes, Brigade Commanding General, "it's no longer a big unit war. The enemy has fragmented his forces to avoid detection, and in turn, we have done likewise and gone after him, saturating the areas that the enemy once could call his own, meeting him on his own terms, ferreting him out and destroying him."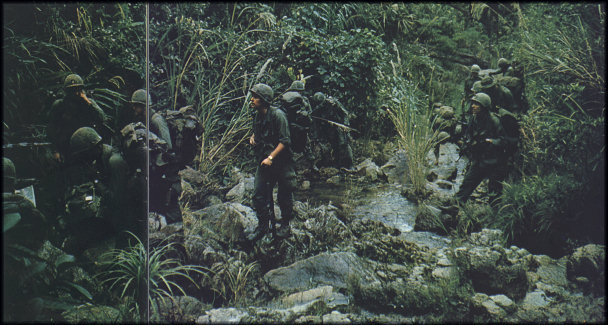 "Of course," he added, "this has put a much greater responsibility on the small unit leader. It has become a Squad and Platoon Leader's war, and they are doing a fine job. We have conducted over 3,500 Hawk operations since November, and they've accounted for nearly 80 per cent of our enemy kills."
"We're nickel and diming the enemy to death," added Major Accousti, who pointed out that these operations have "shown more than anything else, the flexibility, adaptability and imagination of the American Soldier."
"The premium is now on soldierly abilities," asserted Colonel Joseph R. Franklin, Deputy Brigade Commander. "It's six or eight of our men out there in the jungle in a cat and mouse struggle, navigating in the worst possible terrain, which the enemy knows and we don't, against six or eight Viet Cong. It's not our technology that wins out there, but who is the better man, and on nearly every occasion, we're coming out on top. Believe me, this says a lot for American youth."
During the first reporting period of Hawk Operations, Brigade teams had killed 68 enemy while losing only one man, and had directed the destruction of 257 bunkers and 56 standing buildings which had been previously hidden in the jungle.
General Barnes explained further that while the Viet Cong and NVA in the Brigade's AOs were indeed becoming more difficult to "ferret out", at the same time, they were becoming easier to destroy.
People Awaken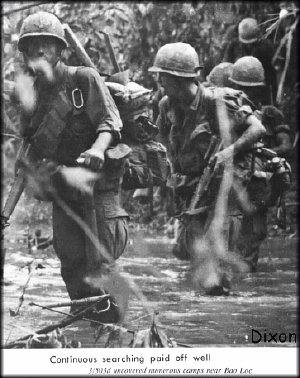 "It's really not difficult to understand," said Major Stang. Because of the heavy losses that have been inflicted upon the enemy by Allied Forces, he is being forced to put troops in the field with less and less training. Morale is very low on their side. They are experiencing great difficulty in obtaining supplies of all types. The people are waking up to the fact that the enemy's promises of victory just aren't coming true and he can't get the sympathetic cooperation that he once could. His recruiting has fallen way off. We're getting more and more Chieu Hoi's who are just completely disillusioned."
Hawk Operations added considerably to the enemy's misery by moving into remote areas where he once could feel safe and then ambushing his trails and directing artillery and air strikes into his staging areas and base camps, which before had been undetected.
One of the most successful operations of the period occurred in late December and early January in the Mountains northwest of An Khe, when the 2nd and 4th Battalions reacted to a potential threat to that region by flushing out a host of base camps and storage areas which resulted in the discovery of an enemy province headquarters and "fantastic" documents which listed countless Viet Cong infrastructure personnel by name.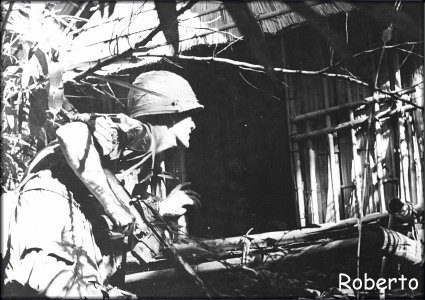 Operation Sky Fire
During the operation, named Sky Fire, Brigade elements killed 16 enemy, captured 21 weapons, 15,600 lbs of rice, 840 lbs of Medical supplies and destroyed 252 buildings and 96 bunkers.
The Medical cache was uncovered by Alpha Company, 4th Battalion, and included Medicinal provisions which ranged from vitamin tablets to Opiums. Penicillin, streptomycin, blood plasma, needles, syringes, constriction bands, hot water bottles, surgical tape, malaria pills and soap were in abundance, much of it ready for immediate use. Nearby, the Company found what appeared to be a clothing supply point, containing 120 sets of black pajamas and 160 white surgical uniforms along with 1,800 feet of khaki material and 10 bundles of plastic material.
Although there were no hospital facilities, several days later A/2/503d found an enemy tunnel which led to a cave complex harboring three operating tables, a mess hall, sleeping area for 48 and a large wheat storage bin.
Meanwhile, in the An Khe area, the 1st Battalion (Mechanized) 50th Infantry was shouldering most of the actual combat burdens. In the space of a week, the Mechanized Infantrymen overwhelmed two potential ambush forces along Route 19. Alpha Company, 1/50th, under the direction of Captain Walter D. Kinard of Columbus, Ga, was credited with killing 28 enemy during the first two weeks of January.
The Brigade also received considerable air support from the Cavalrymen of Delta Troop, 1st Air Cavalry. In one visual reconnaissance contact, the Cav killed eight.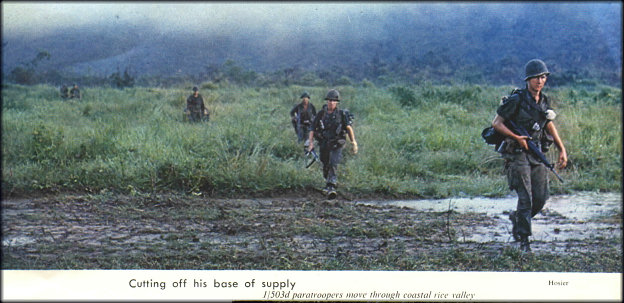 Cochise/Dan Sinh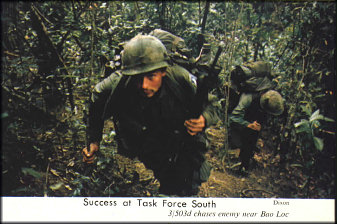 In Operation Cochise/Dan Sinh, there was virtually no heavy contact during the three month period as the Viet Cong went to great lengths to avoid the tenacious Hawk search missions and devastating artillery barrages of the 3/319th Artillery.
1st Battalion and 74th Infantry LRP Hawk teams were particularly successful in the "nickel and dime" tactics of picking off couriers and other VC who ventured toward hamlets to conduct business.
Two significant caches were turned up by Charlie Company, 2/503d Sky Soldiers, the first in early December when they uncovered six tons of rice hidden in the walls and under the floors of a village north of Bong Son, and the second in late January when a Hawk team led by Sgt Stormy Arrow of Hollywood, Fla, found a weapons cache that was described as the "largest ever" during Operation Cochise, Lieutenant General William R. Peers, Commanding General, I Field Force sent a special congratulatory telegram to the team.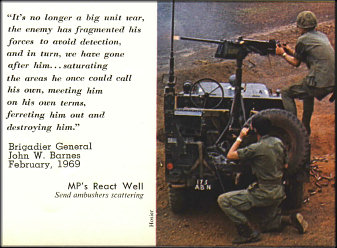 Meanwhile, to the south, in Operation Bolling, while the 4th Battalion was away, Company D, 16th Armor had its hands full securing the airfield, providing security for construction on Highway 7 Bravo and serving as a reaction force for the 47th ARVN Regiment. During two reactionary engagements, the Airborne Armormen killed 31 Viet Cong in some daring night fighting.
Success At Tuy Hoa
One of the battles saw D/16th catch a VC Company in an open rice paddy as they retreated from the ARVN's. The other saw D/16th's APC's storm through an abandoned village where the VC were hiding in ambush and kill 20. February saw the 4th Battalion return to the Tuy Hoa area and conduct a successful "Crunch" Operation with 6 Battalions of Korean troops.
The success of the Brigade and other Allied operations near Tuy Hoa is readily shown in the fact that when the Brigade came in 1967, 60 to 80 percent of the area rice harvest was falling into VC hands. In the rice harvests of the past year, Tuy Hoa exported rice.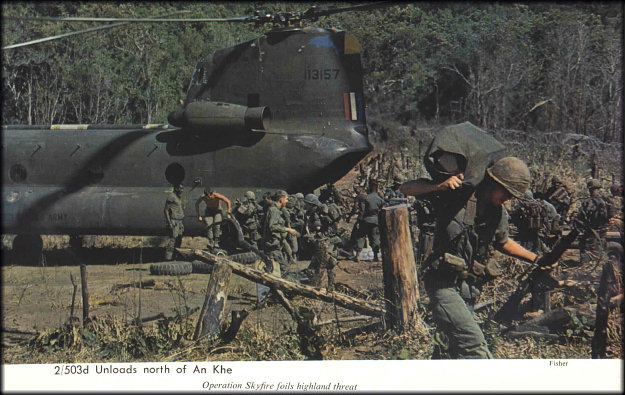 Achievements were also being claimed by the 3rd Battalion, 503d Infantry, which continued to operate in Task Force South, 200 miles to the south near Bao Loc. Continuous reconnaissance in force operations in that area turned up numerous base camps for the 3/503d, including a regimental headquarters, 400 meters long and 200 meters wide, by Alpha Company. In February the 3rd Battalion chased down a VC Regiment and killed 67.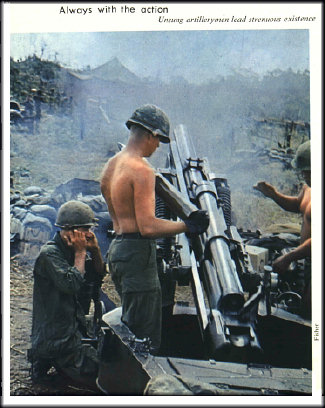 With the beginning of February the Brigade terminated its three operations along the north central coast with the following results:
Cochise/Dan Sinh; 929 enemy dead and 1,987 suspects detained, 122.1 tons of rice and 247 pounds of documents.
Bolling/Dan Hoa; 705 enemy dead and 2,398 suspects detained.
Walker; 272 enemy killed and Highway QL 19 secured.
Taking the place of the three operations were Operations Lee Wainwright and Marshall.
Pg 2 - 7
---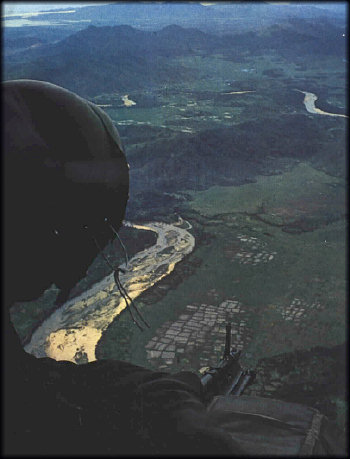 Helicopter Crew Chief
By Sp4 Adrian Acevedo

The man in the flying machine, and one of the true professionals in the Vietnam War.

Clear left ! Clear right !

247, officially labeled a US Army UH-IH Helicopter, but usually referred to as a "Slick" or "Hotel Model", settles to the ground with a slight bump.
Six passengers, including two Red Cross girls and the Brigade Surgeon get off and go about their business at Fire Support Base Shenandoah, temporary headquarters for the 2nd Battalion, 503d Infantry.
Specialist 4 Juan Collazo of Brooklyn, 247's Crew Chief, and Sp4 Pete Penner of Greely, Co, the Door Gunner, meanwhile open the Pilots' doors and slide back the protective armor so the two Warrant Officers can get out.
A tall, thin 21-year-old with red hair and freckles, Collazo then climbs on the ship and waits for the main rotor to stop moving so he can push it down while Penner fastens it to the tail. The Pilots wander off to find out what the ship's first mission will be.
It could be almost any type of mission, as 247 is the Command and Control ship for the 2/503d today. "Usually," says Collazo, "its the reserve C&C for the General", but like all the ships in the Casper Platoon of the 173d Airborne Brigade, it can be expected to pull any type of mission on any given day. Collazo keeps 247 in spotless condition, but the same can be said of most Crew Chiefs since they all take tremendous pride in their ships.
Penner and he are standing and talking when a bedraggled Infantryman walks up and asks if the ship is going back to the rear. "Yeah," says Collazo, "but not right away, we have to find out what they want to do with us first. But, we'll be going back sooner or later."
The Infantryman shrugs and sets down his rucksack. "Say," he asks, "weren't you the guys that set down to pick up those two casualties we had a couple of days ago ? We were down in a valley and had snipers up in the hills." "Yeah, that was us," admits Collazo, pleased, as are all Crewmen when they learn the Infantrymen appreciate their efforts. The trooper is a loquacious one, so they continue to chat about life in Vietnam and things in general.
Soon, however, Collazo is checking his ship again, as he is wont to do countless times each day. His diligence is rewarded when he finds a loose knob on the control panel. The Pilots return at this time, so he asks where the control was set at when it came off.
After he screws it in place, the Pilots tell him Delta Company is going to be extracted at 0900 and the Battalion XO will coordinate the move from 247.
They don't take off until 0930 however, because the five extraction ships are late. 247 meets them over the LZ and just circles while they move the Infantrymen six at a time the two clicks back to the fire base. It is cold at the altitude, so Collazo shrugs into a field jacket and stoically waits out the boring hour and a half.
The rest of the day proves to be relatively uneventful. The ship ferries several more loads of passengers back and forth between LZ English and Shenandoah, including the Red Cross girls and a man with a broken arm. They also extract a wounded man from a Mike Strike Force Company working with the Brigade and the body of a Viet Cong killed by Bravo Company which is taken to the Government District Headquarters.
The weather gets progressively worse, however, and the ship has the misfortune to be at the Fire Base when it is no longer possible to fly. The next day, the weather is just as had and the Crew must remain another day at the Fire Base.
On the third day the weather clears, enabling 247 to continue its mission as the 2/503d Command and Control ship. The end of the day finds Collazo, as usual, pulling maintenance on 247.
Of course, these were not topical days for a Helicopter Crew Chief. There are none, which is probably one of the reasons Crew Chiefs like their job so much.
According to Captain Stanley H. Streicher of Cincinnati, Casper's Commanding Officer, several of his Crew Chiefs have flown all day then worked on their ships until it was time for them to pull guard. The next day after only a few hours sleep, they are ready and willing to fly again.
"My Crew Chiefs are a real professional breed of men," declared Streicher. "With their dedication to their ships and their missions and their extremely high morale they've got to be the finest bunch of Crew Chiefs in Vietnam."
Many feel that the Crew Chief is in fact, the most important man in a Helicopter Crew since he is the only one who accompanies the ship evervwhere it goes. The Pilots work with the ships on a rotation basis and the Door Gunners are changed frequently.
"You get to know your ship so well," said Sp5 Bruce Neva of Kensal, ND, "that you can get more out of it than anybody else. After a while, you learn all the tricks about the chopper, so when something goes wrong, you know exactly where to look to fix it."
There is an intense rivalry among the Casper Crew Chiefs as to who has the best ship. "I have the best ship," declared Neva, who waxes his Slick daily. But, there are others who quickly dispute Neva's statement as they all spend countless hours in maintenance to keep their choppers in top condition. As Neva explained, "You have to like flying and you have to like working on your ship to be a good Crew Chief."

Aids the Pilot

While in flight, the Crew Chief's main job is to aid the Pilot in navigating by keeping him informed of approaching aircraft and obstacles on landings and takeoffs. He also supervises the loading when the ship is carrying personnel or supplies to insure that it won't be so heavy as to seriously damage the aircraft.
When air assaulting Infantrymen into unsecure territory, it is also his job to signal the men when it is time to leave the ship. And of course, both he and the Door Gunner handle the M-60 machine guns which are the Slick's only protection.
In addition to these qualities, a man has to have an extra amount of courage to fly Crew Chief on an OH-6A Light Observation Helicopter another type of aircaft also flown by Casper. This small, extremely fast and manueverable Helicopter is used mainly for reconnaissance missions. But, with its minigun and the way it can approach the enemy without warning, it can also be used in support of ground forces.
The OH-6A Crew Chief's job while in flight is to man the one M-60 machine gun carried on the ship, which is where courage comes into the act. After a Loach nears the end of a gun run and begins to pull out of it, the minigun can no longer protect it, and it is very vulnerable to ground fire. Thus, only the Crew Chief's courage and skill with the M-60 can save the ship from being shot down.
On one mission, Bravo and Charlie Companies of the 2nd Battalion were receiving heavy sniper fire from a woodline between their positions. They couldn't reach the enemy, so a Loach was called in to silence the snipers. In addition to firing the minigun, Sp5 Rick Canning of Memphis, Tn, was so effective at tossing out grenades, the Infantrymen asked later if the ship was armed with rockets. "Nope," replied the Pilot, "that was just my Crew Chief doing his job."

Love Loaches

Loach Crew Chiefs have as much pride in their ships as those on Slicks. "I guess I just like the way a Loach flys low and can sneak up on Charlie," said Sp5 Mike Nuckols of Red Bluff, Ca "I remember one time when we caught one in the open. He started to run, but there wasn't any place to hide, so we just set down and I motioned him into the ship with a .45. He turned out to be the son of a Viet Cong district chief.
On a similar mission, Canning's ship and another Loach were supporting armored vehicles which had trapped a VC force against a large lake south of LZ Uplift. Several of the enemy had boarded boats and were trying to escape across the lake.
The Loaches just knocked the two boats over with their rotor blast and made the VC hang on to their skids while they ferried them one at a time to friendly forces waiting on shore.
Another type of Crew Chief just as dedicated as those in Casper are the men who crew the Gunships for 61st Assault Helicopter Company, which supports the Brigade out of LZ English.
Sp5 Don Casella of Burbank, Calif., explained that the 61st's UH-1C "Gunnies" are armed with 2.75 inch rockets and either two miniguns or a 40 mm grenade launcher.
"The maintenance is much more complicated on a Gunship than on a Slick," he said. "The Crew Chief has to know the whole armament system, and it's a dual hydraulic system instead of the single one the Slick has. It is just a completely different ship with a lot more maintenance."
"Despite the extra work," continued Casella, "I prefer crewing a Gunny to a Slick. Just guess I'd rather do the shooting than get shot at."
As on a Loach, the Gunship Crew Chief mans an M-60 to protect the ship when it pulls out of a run. And, as on a Slick, a Door Gunner handles another machine gun on the other side of the ship. Both men of course aid the Pilot by keeping him informed of approaching aircraft and of obstacles on takeoffs and landings.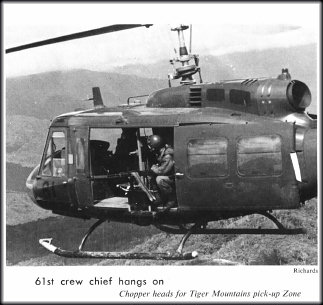 Most Crew Chiefs are young and are serving their first tours in the Army, but their bravery, dedication and ability to handle an emergency has proven beyond all doubt their worth in Vietnam.
In one instance, Sp4 Gary Poland of Sayreville, ND, a Loach Crew Chief from D Troop 2/lst Cavalry, working with the 1st battalion, grabbed the ship's controls when the Pilot was hit by enemy fire and blacked out. Poland pulled the ship out of a dive and continued to fly it until the Pilot recovered consciousness and was able to make a forced landing.
Asked later how he did it, Poland who had never had any flight training, grinned, "It really wasn't that hard. I've spent a lot of time watching the Pilot fly."
Maybe it really wasn't that hard, but, there aren't too many people who could have done it. Except perhaps another Crew Chief.
Pg 8 - 10
---
Sky Soldier of the Month
Sky Soldiers of the month for the past quarter were Sp4 Mark A. Schneider of the 4th Battalion, 503d Infantry (December), Sp5 Guy William Streich of the 3d Battalion, 319th Artillery (January), and Sgt Thomas Means of the 1st Battalion, 503d Infantry (February).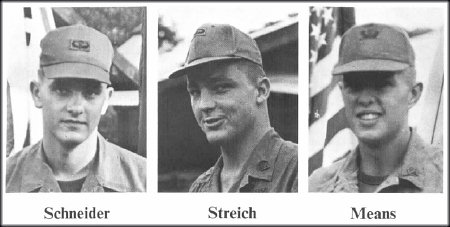 Sp4 Schneider of Charlie Company, 4/503d, began his tour as a Pointman before becoming a Squad leader. Sp 5 Streich is a field artillery operations and intelligence specialist with Delta Battery, 3/319th and Means an Infantryman with Delta Company, 1/503d.
All three Paratroopers were selected by the Sky Soldier Executive Board on the basis of their knowledge of military duties and regulations. In addition to a Sky Soldier plaque they also received a one week R&R to the city of their choice, a 50-dollar cash award and spent a day as special aide to the Commanding General.
An indication of the high quality Soldiers these men are, was a comment by Sp4 Schneider concerning his tour in Vietnam with the Brigade. Said Schneider: "My duties here have taught me the importance of making decisions accurately and making them quickly under fire, the right decision made in a microsecond can mean the difference between life and death for both you and your men. I seriously feel that my tour here is benefitting me in that upon my return to the world, I will be ready and eager to face the decisions and responsibilities life offers there."
---
Olive Drab in Color
TOWEL - Olive drab, an Army issued item for use after bathing.
Designed for the Vietnam Soldier with the idea of camouflage in mind, these dark green towels were probably never considered for the multiple of practical uses the Infantry now finds for them, the least of which is bathing.
In the 173d Airborne Brigade, Infantry Paratroopers find little opportunity for bathing in the jungle, but their olive drab towels nevertheless remain treasured items.
"It's best for perspiration," declared one Paratrooper who wears a towel slung around his neck ready to wipe off the sweat as his Platoon trudges up and down mountain slopes.
Others tuck one green end beneath their helmets and drape the towel across their rucksacks to protect their exposed necks from the direct rays of the sun, and as a partial cover for rain.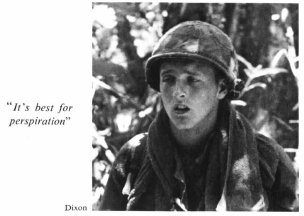 Of all the Infantrymen, however, the machine gunner gets the most use from his towel and usually tries to have an extra two or three on hand.
The majority of machine gunners will use their towels to cover their most vital weapon from the constant companion of moisture. Some also wrap the gun straps to help prevent the heavy load from digging too greatly into their shoulders.
The machine gunners as well as other line Soldiers also maintain a special towel for cleaning purposes on their gun.
Once bedded down at night, other towels appear from the soldier's rucksack and neatly folded will convert into the next best thing to a pillow.
Pg 11
---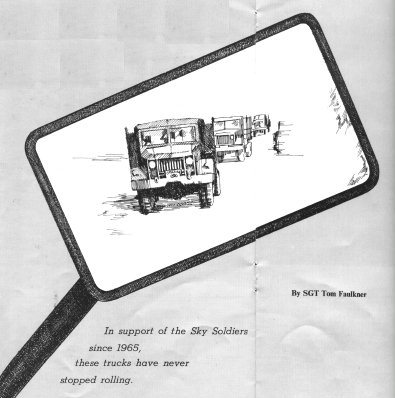 Airborne


Express
Emerging from the churning clouds of red dust, the headlights from the heavily laden convoy quivered from the rough, pockmarked mountain road.
A welcome sight to any Sky Soldier of the 173d Airborne Brigade, the truckers of the Airborne Express were rumbling toward the forward elements, bringing food, water and ammunition.
For the truck drivers, it was nearly the end of another unsung, dirty, bone jarring day, which began back n the spring of 1965 at Vung Tau continued through the unforgettable struggle at Dak To and into today's Brigade operations along South Vietnam's north central coast.
Hauling everything to include the kitchen sink, the Airborne Transportation Platoon, Company C (S&S), 173d Support Battalion, better known as the Airborne Express, has supported the nomadic Paratroopers in more than 20 separate locations with as little as 24-hour notice.
"We are currently supporting the Brigade in four areas," said 1Lt John Henry Girard, a Platoon Leader from Santa Ana, Ca, who notes that in addition to hauling all supplies and equipment for the Brigade, the Airborne Express has the monumental task of supporting all units attached to the 173d.
"We provide support for three times as many men as our original commitment," remarked Captain Lewis B. Sanchez, C Company Commander, "and the size of the Transportation Platoon has certainly not increased proportionately."
"If it can be hauled by truck, we'll haul it," Platoon Sergeant Jack D. Potter said proudly. "We're on call day and night. Our men respect the role of the Infantryman and we'll do all we can to help him out "
A good indication of the truckers' fortitude was one particular operation last summer in support of the 4th Battalion in the mountains northwest of Tuy Hoa, when the Airborne Express was put to a test of driving skill and determination. Operating near Dong Tre, a small village that had been harrassed by VC, the 4th Battalion was in daily need of resupply, and trucks bearing the Airborne Express license plate became a familiar sight to the villagers along that stretch of twisting, turning, crater-ridden road.
Recalling his many trips, Sp4 Donnie G Hurd of Bridgeton, Mo. said, "We drove that road so many times, all you could hear when we passed through the villages was the children shouting, "Airborne Express." But, the villagers weren't the only ones who became familiar with the frequently traveled route. The Viet Cong had been watching too. Time after time, the VC tried to stop the convoys with sniper fire and mines, but the trucks continued to roll. "It was hard enough to control the trucks on that open road," said Sp4 Dewitt T. Rule of Toms River, N.J. but when the VC opened up on us, the only thing we could do was shift gears, step on the gas, and pray, especially if you were hauling fuel or ammunition."
During the operatioin, the Airborne Express hauled over 90,000 gallons of highly flammable JP4, 100 tons of ammunition and several tons of food and expendables to the 4th Battalion, two ARVN battalions and D/16th Armor. No supplies were ever lost.
Although the VC were unable to prevent resupply, the tough road conditions did take its toll on the vehicles. On numerous occasions darkness would fall before the drivers could push their ailing vehicles into the motor pool at Tuy Hoa. Everything from bleeding oil pans to flat tires and bullet holes had to be repaired, and the early morning hours would often find the drivers still working to ready the trucks for the next convoy at 0600 hours. "That road was so bad, you felt your insides were coming apart," remarked Sp4 Rule, who is now on his second tour in Vietnam. "If it was that bad on the drivers, you know the trucks were taking a beating."
According to Captain Sanchez, the Transportation Platoon is one of the best organized and maintained units in Vietnam. He pointed out quite accurately; "Their ability to react to a situation and perform well under adverse conditions has proved them extremely valuable to the Brigade's missions."
Ability to react and organize was displayed recently when SSG Potter was notified that an unexpected shipload of beer and soda had arrived in Qui Nhon for the 173d. A shortage of men and trucks did not prevent completion of the mission. In two days time, extra drivers were trained, licenses issued, maintenance performed and trucks on the road. "The monsoon rains didn't help matters," recalled Potter of Cleveland, Tx, "but everyone worked together and we made it on schedule. That's one load that the troops look forward to."
Monsoon rains and VC attacks have not kept the Airborne Express from completing more than 250 long hauls, weighing over 5,000 tons in the past three months. Of the 46 men assigned to the Platoon, approximately 75 % are on the road daily.
Each of the 14 five-ton, and 21 two and a half ton trucks proudly display a blue plate on the front of their bumper. Drawn in gold letters are the words, Airborne Express, and a straight razor suspended from a parachute. The razor symbolizes sharp, clean-cut drivers with a high degree of professionalism while the parachute speaks for itself. Proof of the razor-sharp image lies in the fact of the many awards that the men of the Platoon have received. "There is never a dull moment," quipped SSG Potter, "but, when the going gets rough, we just take two salt tablets and "Drive On."
Pg 12 - 13
---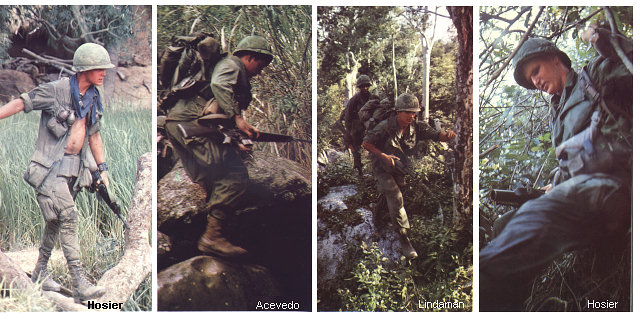 They Walk Where Others Fear to Tread . . . .
It was precisely 0935 hours. Clear, 81 degrees.
A tall broad-shouldered man with the 4th Battalion, 503d Infantry slowed to a stop as he approached the thickly vegetated ravine. He unsheathed his machette and moved forward again, hacking viciously at the tangled clump of vines blocking his path. Beads of sweat swelled beneath the band of his helmet.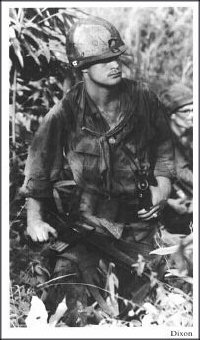 More than 100 miles to the north, another figure, a wiry, black-haired Italian from Trenton, N.J. was crouching low in the swaying elephant grass, his rucksack, more than half his weight, pushing heavily against his shoulders. As the rest of his Platoon from the 1st Battalion, 503d Infantry approached, he pointed out the well camouflaged Viet Cong booby trap to each man, and they moved around it quietly.
For both of these men, it was a familiar scene in a typical day pulling point for the 173d Airborne Brigade a day filled with constant tension, muscular strain and the realization that one mistake could bring an abrupt end to both themselves and the Squad or Platoon behind them.
In appearance, the Pointman looks just the same as the Infantrymen who follow him, except perhaps if one takes a closer look and notices the hands, scarred by cuts and bruises left by breaking trails through the thick and thorny brush, or the fact that he's just a bit more lean because he sometimes has to walk twice as far as the rest of the Platoon.
Often the Pointman will struggle up a mountainside only to find the terrain impassable, forcing him to return and find an alternate direction.
When the Company breaks for chow, he is the last to eat. First he must move ahead to find the best route for the Platoon to take. He is then, of course, the first to move out again.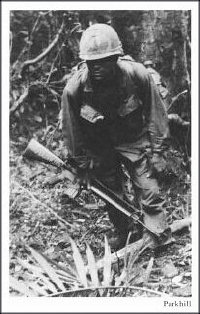 "I look for four things in a good Pointman," said 1Lt Rand Shotwell of Dallas, Tx, who has been a Platoon Leader with both the 4th and 2nd Battalions. "He must have intelligence, mental alertness, good physical condition and guts, a lot of guts." "A good Pointman," added SSG Thomas H. Hubbard of Jonesboro, Tn, 1Lt Shotwell's Platoon Sergeant with Bravo Company, 2/503d, "will usually mean the difference whether you surprise Charlie, or he surprises you." It isn't surprising to find out the job is an easy one to get. Often all a man has to do is volunteer. "Usually," said 1Lt Abner Harrell of Brunswick, Ga, "only the better men volunteer. They know the task, have confidence in themselves and want to help the Platoon."
"I walked point for six months before I became a Squad Leader," said Sgt Ronald R. Brown of Albany, Ga "and I'd say the main thing to remember is not to take Charlie for granted. Just when you think you have him figured out, he'll change his tactics. A Pointman must be alert every minute." Concurring, Sp4 Gary L. Seavers of Azores, Portugal, Pointman with Delta Company, 2/503d added; "You may go for weeks without making any significant contact, but Charlie will always be watching you. He'll watch and wait, hoping that we'll become lax or overconfident. All you have to do is stay alert and dont' give him any slack."
Frequently, Companies and Platoons will utilize a two Pointman system. The first man in file will break the brush and the second will look for snipers. When moving in open areas, the first man will check for booby traps. Sp4 Seavers explained, "Two men on the point works out pretty well, when we are in the thick bush, you don't need to worry about booby traps too much for if Charlie had been through the area, there would likely be a trail of some sort." With the invention of more ingenious booby traps, two men on point has proven more effective. The first concentrates only on booby traps and lets the second worry about snipers.
Every Pointman has his own techniques to keep his men as well as himself alive. He utilizes past experience, takes advice from the oldtimers and receives a lot of help from the Kit Carson Scouts. "You look for anything out of the ordinary," said Seavers, "like a vine across a trail in an area where there are no vines growing.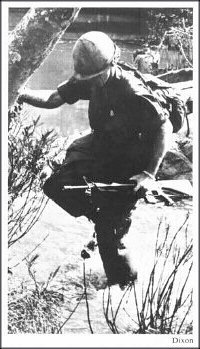 Recalling a situation which happened to Alpha Company, 2/503d, PFC Martin J. Waters of Malta, Montana said, "We had been operating in the highlands and were ambushed every day for seven days. I was moving about 20 to 25 meters in front of the Platoon, and I would hear a clacking noise. Shortly afterwards we would get hit. We found out that Charlie was communicatillg by clacking bamboo sticks together. After the first ambush, each time I heard the noise, I knew what was coming and warned the Platoon.
Being the first man to walk into an unknown area can get a bit nerve racking at times, but there are some Pointmen who wouldn't take any other job. "I like walking point, mainly because I gain confidence in myself and depend on myself to find booby traps or ambushes," asserted PFC Steve M. McCandless of Camden, N.J. who walks point for Delta Company, 2nd Battalion.
Others, like Sergeant Brown, have less lofty reasons for taking the precarious job. "I was an RTO before taking over on point, and I definitely prefer the latter. It might be more dangerous, but you don't have to hump that radio." Despite their difference in techniques or motivation, there is, however, one thing they all agree on about the job.
As McCandless summed it up: "Never become overconfident. If you are as cautious and alert your last day in the field as you are your first, then you'll make it and probably keep a lot of guys from getting blown away."
Pg 14 - 16
---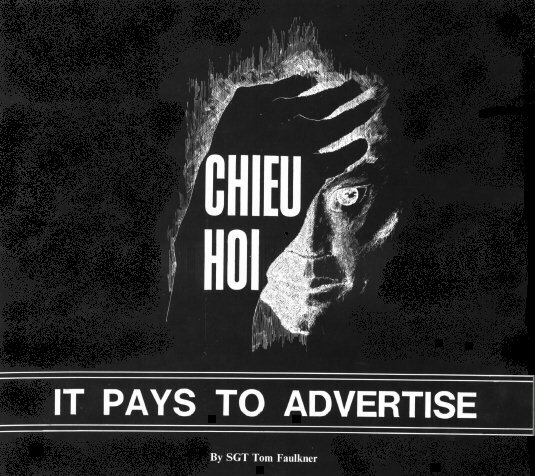 The Madison Avenue wizards of advertising should take a close look at the Chieu Hoi campaign being conducted by the 173D Airborne Brigade.
Clad not in greyflannel suites but in jungle fatigues, armed not with fast talk and hard sell but paper bombs and words of TNT which explode not with low prices and hot specials but with words of truth and hope for a better life. The Paratroopes of the 173d Civic Action Office and a team from the 8th Psychological Battalion wage a relentless war against Communist agression.
To sell a product, the ad man must get his message to his audience and the 173d has exposed over one million villagers, Viet Cong and North Vietnamese Army troops to the Chieu Hoi program in the provinces along South Vietnam's north central coast.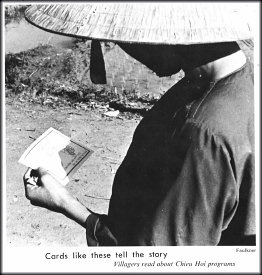 A typical scene is the Viet Cong crouching in the tall elephant grass or a village farmer trotting methodically behind his beasts of burden on a daily trek to the rice fields, while a shower of leaflets fall at their feet.
Trucks armed with loudspeakers spread the message of CHIEU HOI from the market places to the secluded hamlets.
Suspended from a blimp, 1500 feet above the Brigade's forward command post in the heart of this area, a massive leaflet has exhibited the words CHIEU HOI in bright red seven foot high letters which can be seen for over a mile in any direction.
The 173d has reached the masses through leaflets, loudspeakers, posters, cigarette and candy wrappers. To the Vietnamese, Chieu Hoi has become a household word, an ad mans dream.
But what does Chieu Hoi mean and what is the program? Chieu Hoi literally translated means "Joyful Return" but it means much more to the VC/NVA and the South Vietnamese.
To these people it means that the Vietnamese Government welcomes back to society those soldiers and workers who have been misled by Communist propaganda or have been forced into the Communist camp through no choice of their own.
In short, the program offers members of the opposing side an invitation to come over to the Government of Vietnam, return to their homes and loved ones and become useful and loyal citizens.
The brains behind the CHIEU HOI program in the 173d Airborne Brigade belongs to Major Ronald A. Lawrence of Normal, Il, the chief of the Civic Action Office.
A veteran of three years in Vietnam, Major Lawrence has an uncanny insight into the Vietnamese problems and their mode of life and has established a fantastic rapport with the people.
According to Major Lawrence, the intent of the CHIEU HOI program is to induce those who are giving military and political support to the VC/NVA to come over to the side of the Government of Vietnam and hence cripple the enemy movement through the loss of soldiers, weapons and civilian support which in turn strengthens the US and GVN forces. In addition to this physical loss, the program also chips away at the organizational structure of the National Liberation Front and lowers the morale of the VC/NVA by attempting to kindle dissension and distrust among their members.
Ideas Revamped

It wasn't too long ago when CHIEU HOI literature was bolder and stressed our military superiority, and that VC/NVA resistance was useless. This, however, was found to induce animosity among the enemy forces and intensify their resistance.
So, like any good ad man whose product isn't selling, the program directors changed their pitch. Now the theme emphasizes the family bond, appealing to the Communist soldier to come home and be again with his family. The results have been encouraging.
In an advertising campaign, serious consideration must be given to the area being covered and the population. As for the 173d Airborne Brigade, it has the dubious opportunity of operating primarily in the rice rich Binh Dinh Province, one of the most densely populated in Vietnam and until recently a Viet Cong stronghold.
Working closely with their Vietnamese counterparts in the program, the Brigade has used the incentive technique, often used in the advertising field, and instrumental in producing a record number of Hoi Chanh's or "returnees" in the past year.
Given Money

Once returned, a Hoi Chanh is given a sum of money for returning, and an additional sum if he brings a weapon. He is given free housing at the Chieu Hoi center and enough money to defray clothing and food expenses. After he has been informed of the goals of the United States and Vietnamese Governments, he is often times given vocational training.
1st Lieutenant Robert E. White of the 8th Psyops Team, working closely with the Brigade is responsible for leaflet distribution and loudspeaker broadcasts.
"Once we receive a Hoi Chanh, every effort is made to obtain all of the information he may possess about the enemy," said 1LT White of Cedar Hill, Tennessee. He put aside one of the new CHIEU HOI leaflets and added, "Information from Hoi Chanhs have provided us with the enemy's unit size, supply routes, morale problems, caches of weapons and food, infiltration routes and methods of communication."
One of the best and most successful advertising tools is the personal experience approach which has been utilized with good results by the Brigade. "The best example of the personal experience approach is one of our most recent and most cooperative Hoi Chanhs", explained White. "She came to us from a VC platoon which is led by her fiance, and she gave us names and locations of the unit. According to 1Lt Whites, a voice tape was made, on which she pleaded with her former comrades to return and her picture was attached to a leaflet in her handwriting. The recording will be played and the leaflets dropped in the areas that she had designated. Although only an isolated case, she was among the thousands that have returned in the past year. Over 12,000 VC / NVA have returned to the Government of Vietnam in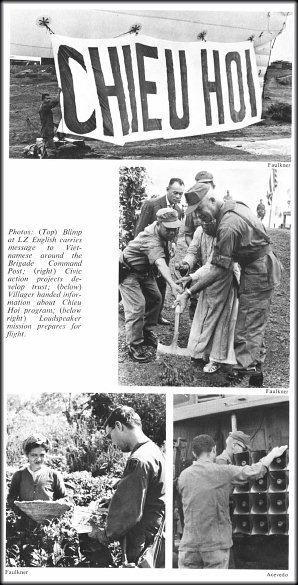 1968 and more than 87,000 since 1963.
For a period of six months after returning to the Government of Vietnam, a male Hoi Chanh is exempt from the ARVN draft. Major Lawrence explains that there are several other choices open to the Hoi Chanh who is eligible for the draft.
Kit Carsons
He points out, "The 173d has adopted the Kit Carson program and Hoi Chanhs are employed to work with the Brigade Paratroopers. These men serve as scouts and have been invaluable as guides and leading troops to VC areas of operation, since they have usually worked in the areas while with the enemy."
Many returnees, after their release from the Chieu Hoi Center will join the ARVN even before the six month draft exemption expires. Some of the more articulate and competent returnees are permitted to join armed propaganda teams. Moving through the countryside, the teams inform the people of their past association with the enemy and advise them not to make the same mistake.
And, there are those Hoi Chanhs who are too young or too old for the military and cannot qualify for the APT. These people return to their families and farms.
Results are what makes a successful advertising campaign and the CHIEU HOI program has proved itself by producing an increase each year in the number of Hoi Chanhs. Today one might say, there are, 87,000 fewer VC/NVA soldiers fighting against 173d Paratroopers and their allies.
It costs slightly more than three hundred dollars to provide for the housing, food, clothing and training for a Hoi Chanh. Compared to the cost of finding him and destroying him as the enemy, three hundred dollars is negligible. The 173d Airborne Brigade is proving the old adage in Vietnam, "It Pays to Advertise".
Pg 17 - 19
---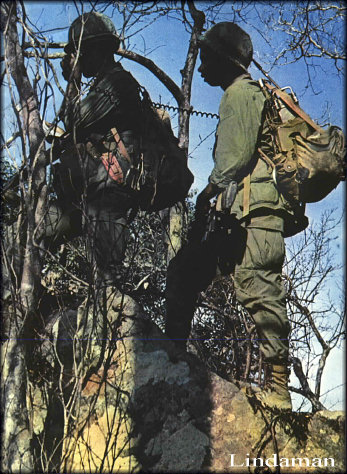 Radio-Telephone Operator
Man with the Sound
By Sgt Tom Faulkner
His weapon operates on batteries and he doesn't have to fire a shot to wipe out an enemy position. Sometimes you say he's "gettin over" and other times you wouldn't take his job for another R&R.
Courage, intelligence and a cool head are all essential and he can make or break a Platoon Leader or Company Commander. When you are hit, he calls for Dustoff and if you are pinned down he can bring the wrath of gunships and artillery to the rescue. Chow, clothing and those little extras like writing paper,soap and cigarettes are at his beckoned call.
He is a radio-telephone-operator (RTO) and frequently your only contact with other elements.
"I choose an RTO based on his intelligence and ability to express himself," said Captain James M. Grimshaw, Delta Company Commander, 2nd Battalion, 503d Infantry. He also must be mentally alert, level-headed and familar with radio procedure."
Captain Grimshaw paused and puffed on his cigar. Then he added,"An RTO has got to have a good supply of confidence and be capable of making decisions on his own. There may be a time when he has to take over a Platoon or even a Company ."
Lieutenant Larry T. Leray of Tibodaux, La, Platoon Leader with Bravo Company, 2nd Battalion agreed wholeheartedly. "I want my RTO to be able to act without being told," said Leray. "I've had some terrific RTO's who often knew what I was thinking even before I did."
The problem though, is finding the right men. "It's almost like some of these guys were born with a radio in his hands," said one Company Commander. "I've seen some who pick up radios like a fish taking to water. Others just haven't got what it takes. "
Extra Load
In addition to the responsibilities, an RTO has an extra heavy load to carry. A 25-pound radio, extra batteries, sleeping gear and as much as six days rations can sometimes be quite a hassle, especially when trying to maintain the same pace as his CO or Platoon Leader.
"It's really rough when you're in the mud or thick brush," declared Pfc Terry L. Evans of Tampa, Fla, an RTO with Delta Company, 2nd Battalion. "In the bush, the wait-a-minute vines grab your aerial and the mud just seems to keep pulling down."
Recalling his last ten months with Delta Company as the Company Commander's RTO, Sgt Edward P. Fruchtenicht of Portola, Ca said, "Sometimes I think I was chosen as an RTO because I was the biggest guy in the Company and they figured the extra weight wouldn't bother me.
"But I wouldn't have traded it for any other job," added the husky Californian with a smile. "As an RTO you feel like an integral part of the Company and nothing happens out there that you don't know about."
The duties of the RTO will vary slightly even within Companies, but what he is expected to know and carry is the same. Some merely answer calls and pass the horn to the Platoon Leader or Forward Observer. Others are expected to maket some of the minor decisions that a Commander would have to make.
"After an RTO and I have worked together for awhile, we learn how each other thinks and reacts to a particular situations," said 1Lt Leray. "I depend on him to take care of a lot of problems such as calling in our location status, leaving me more time to concentrate on the Platoon and tactical problems," said Lt. Leray.
Although the RTO's main function is to maintain constant communication with the Company Commander and the other elements, a good RTO is also aware of the job of each man in the Company. On many occasions, he will have to fill in for a Machine Gunner or even a Medic.
"We were walking through a rice paddy when Charlie sprung an ambush on our point element," remarked Pfc Martin J. Waters, of Alpha Company, 2nd Battalion. "The Medic had his hands full, so I ran forward and was able to patch up one of the men, while calling in a Dustoff. "
As in any job, the first few days are the roughest for an RTO. He must learn how his Commander operates adjust to the weight of his rucksack and most of all learn the call signs.
"My first few days were a real horror show," recalled SGT Fruchtenicht. "You've got to keep that handset to your ear at all times and sometimes use as many as ten different call signs. It gets complicated and there is no room for error."
Hazardous Job
"One thing I found out real quick when I became an RTO," said Pfc Waters of Malta, Montana, "was that your aerial makes a pretty good target for the VC. I caught two rounds right through the radio my first week in the field. An RTO's position in a column couldn't be more conspicuous if he wore white fatigues."
However, despite the hazards, hassles and added responsibilities of the job, most RTO's in the 173d Airborne Brigade seem to take a special pride in their jobs.
"I've humped the radio for more than nine months," said Sp4 Paul R. Lash with the Recon Squad of B Company, 2nd Battalion, "and I wouldn't want any other job over here. The extra weight and responsibilities are compensated for by always knowing what is going on and being able to personally help the troops. And besides, it is not all that dangerous. "
The job of the RTO remains the most complicated of all combat assignments and although Commanders know what they look for in an RTO it is difficult to define all the virtues that make-up a good one. He is a prime target for the enemy and often is responsible for life and death, success or failure, victory or defeat.
Perhaps one of his most difficult battles is with man's basic instinct, that of self-preservation, for when the hot lead starts flying he must reach for his radio, not for his rifle.
Pg 20 - 21
---
Protecting Vital Highway QL 19 and An Khe against repeated threats form NVA/VC ambush and sabotage is no easy chore, but it has been shouldered by the Infantrymen of the 1st Battalion (Mechanized) 50th Infantry with devastating success since August 1968. Pictured here 1/50th APC's rout an NVA ambush site.
Photos by Sp4 Craig Lindamann.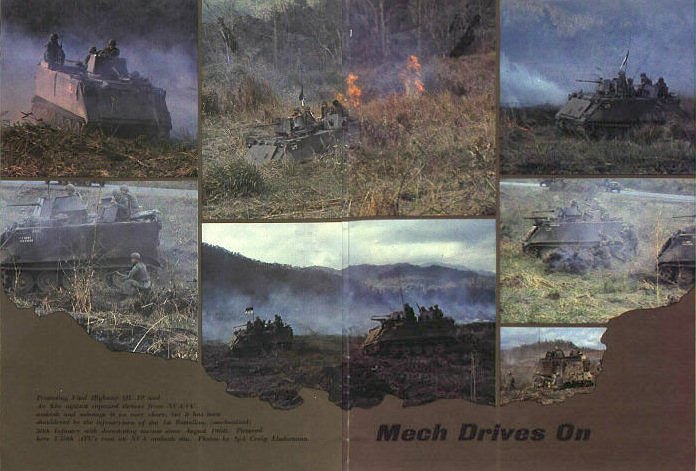 Pg 22 - 23
---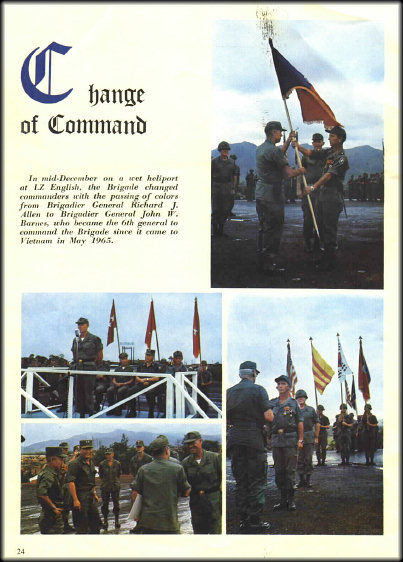 Pg 24
---
Nothing too Good for Him
By 1Lt John Emmert
The afternoon of the fourth day, Alpha Company, 1/503d Infantry, was moving into its laager site after a three-click trek across two ridge lines. Though the load was lightened of C-rations and ammunition spent up in two contacts with the enemy, the troopers felt exhausted. Movement had been particularly difficult and the Company hadbeen breaking brush most of the way.
As their day of patrolling came to an end, men of the 1st Battalion's Forward Aerial Supply Team (FAST) moved into the last phase of resupply.
"Two Whisky. One Whiskey, over"
"Two Whiskey. Go"
"This is 1 Whiskey, Roger. Lucky Star 624
just departed my location inbound to Kilo 8 Alpha
with their Romeo Sierra.
Is Kilo 8 Alpha on our push?"
This is 2 Whiskey, Roger. He is up and waiting, Out"
Anticipation was mounting for the Infantrymen who had just finished cutting an LZ while the Company Commander radioed the chopper its clearance to land. Resupply, which can be carried out at any time in the day, meant mail from home, possibly a hot meal, change of clothes, ammunition and a sundry pack. There would be a myriad of other things too, that often an Infantryman takes for granted- water, medical supplies, ponchos, air mattresses, and maybe a repaired weapon. Nearly all that had been requested the day before by "firefly" had arrived. Every Company in the field gets resupplied in this manner. The "firefly" begins with the Infantryman and is passed through the chain of command to the Company CP where it is logged and radioed in code to the Battalion trains area. The list includes everything the men think they will need to operate until the next resupply.
Conceived by Captain David Cooper, 1st Battalion S-4, the FAST system is comprised of a team chief and two men per Line Company who have undergone training to insure efficient operation supply. Classes, given by the S-4 personnel, cover expendable items, stockage levels, supply location points, and the handling of critical supplies. Similar classes conducted by men of the Battalion Ammunition Point are designed to brief the team on ammo resupply. The team was also trained in loading "Chinooks" and "Hueys."
"As a result of this training," says Sergeant James Rhatigan, resupply team chief, "resupply days are not the hassle they once were. With a team member aware of Battalion needs and capacities as well as the requirements of his Company resupply under the FAST system inevitably favors both levels." "The team enhances professionalism," he added, "and its sole purpose is to support our forward elements as completely, efficiently and rapidly as possible."
In the other Battalions of the Brigade, resupply operations are similar. Flow charts and records are constantly reviewed, updated and changed at Battalion and Brigade S-4 level to keep the machinery of supply working smoothly and efficiently.
New supplies, however, are only part of the picture. A broken weapon in the field means to the Infantryman that, more than likely, he will have another one on the next resupply. It also means a great amount of work for the Battalion maintenance teams who are ready to repair radios, vehicles, weapons and other equipment, or if the damage is too great, send the work to the next higher maintenance echelon.
The supply chain begins at the Company where the ammunition and supplies are passed out to the individual Infantrymen. The next link in the chain is the Battalion S-4 who maintains the LOC and is responsible for stocking and moving the supplies, usually in coordination with the Brigade Aviation Office, to the Companies. From there, the supply picture gets quite a bit more complicated. Items like food, fuel, ammunition and perishables can be drawn directly from 1st Logistics Command forward supply points set up across Vietnam near the operational units. Repair parts are stocked by every unit from Company to Brigade level. The Brigade Maintenance Office in An Khe faces tasks involved in keeping machinery and equipment operational.
Brigade supply requests have deep roots. Over 95% of all supply items are obtained through Qui Nhon depots and nearly all of their supplies are from ports like Okinawa, Japan, Hawaii and the US mainland.
The meaning of a good supply system is fundamental, says Major Joseph T.Gill Jr, Brigade S-4 Officer. "Whether ammunition or typewriters, sundry packs or soda, good supply means a high spirited a combat effective fighting force. No army in the world has ever been as well supplied as the US Army. And, no other Army of the United States has been as well supplied as the fighting men in Vietnam."
Pg 25
---
Chaplains find new generation of free thinking, morally enlightened men.
By Sp4 Larry Gillis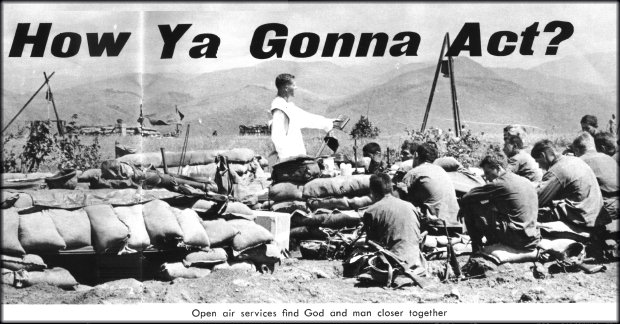 Chaplain Davis conducts daily mass for troops.
The morning hush was abruptly intruded by the sound of an approaching helicopter. The dewslicked vines on the vegetated hillside waved like a frenzied dance troupe as the bug-like chopper slipped over the treetops and touched down on the tiny carved-out clearing that served as a landing zone.
Two figures climbed from the chopper and strode toward the laager site, home of some Paratroopers from the 173d Airborne Brigade.
"Hey! Is it Sunday already?" croaked one Sky Soldier with a deep, sleep-soaked voice. "No, it's Thursday," said one of the advancing figures.
"Then what are you doing here Chaplain Kelly'?'' returned the Paratrooper as he emptied another envelope of sugar into his coffee. "Couldn't make it out to you guys on Sunday for services, and if anyone needs religion, it's this outfit," quipped Chaplain (Captain) Lawrence Kelly.
"Aw, how ya gonna act Sir?" said the sleepy Paratrooper with a wide grin.
Chaplain Kelly heard the young Soldier's answer and only grinned in return. He understood that it didn't mean anything disrespectful. In the jargon of the soldier in Vietnam, expressions like, "How ya gonna act?" pop up all the time. To most Sky Soldiers, "How ya gonna act?", is a convenient phrase to fill conversational lulls. But, for the Chaplains of the Brigade, this curious bit of slang has come to have a special meaning.
"We have a generation of young men today," explained the redheaded Chaplain, "who want to cut to the bone of modern day problems. Young boys become young men overnight. All it takes is the flight from the States to Vietnam. "
New Generation
Chaplain Kelly further added that the expression, "How ya gonna act?" is important and an indication of modern morality. It shows that today's Soldier is more concerned than ever about how he reacts to the world he is part of. I think it is a wonderful sign for the future."
Many of the other Brigade Chaplains were in full agreement with Chaplain Kelly. "I'm especial impressed with today's Soldier," asserted one Chaplain. "He is a much more pragmatic individual than Soldiers I have known in the past. He isn't afraid to speak his mind, and he looks at things clearly. He tries to determine right from wrong in the complexities of today's world. This phrase, "How ya gonna act?' is very indicative of the way he thinks - a sort of situational ethics. Every day certain situations confront us, and the way we act determines what sort of person we become. "
However, as Chaplain Milan Mulac, who immigrated to the U.S. from Yugoslavia pointed out, despite many changes in modern morality and ethics, relationships between men of the cloth and men of arms haven't changed much through the Centuries.
"There has always been a close relationship Father Mulac said. "I suppose it started back in the crusades, when bishops and priests were often seen leading men into the rage of battle to retrieve beleagured Jerusalem from the Moslem infidels."
Indeed, the Clergyman's importance has not diminished with the passing of centuries of armed conflict. During America's embryonic days, men of God played a decisive role in tending to the spiritual needs of the Revolutionary War patriots. Chaplains upheld the same heroic tradition in both World Wars and in the Korean conflict.
"We still have the same basic and formidable role," said Chaplain (LTC) C. Howard McCloy, Sr., who recently took over as Brigade Chaplain. "There is still the great need of bringing men to God and God to men."
But, despite continued closeness between the two groups, Chaplain Kelly claims that the adage about no athiests in a foxhole doesn't always hold water in Vietnam. "Today's young men have a healthy questioning attitude," asserted Chaplain (Father) Kenneth Gilley, " we can't use the old scare philosophy with religion. It doesn't work. These men are interested in the nitty gritty. They are better educated than ever before and more morally aware than previous generations. They want to help solve problems."
Chaplains should spend as much of their time as possible with the men," said Chaplain Kelly. And spend they do, statistics from their recent quarterly activity report show 6,831 visits to Sky Soldiers throughout their areas of operation. Almost half of these visits were to the troopers in the field or forward areas.
"John Wesley, the founder of the Methodist Church, used to say that the world was his parish," explained Chaplain Kelly. "The same is true for an Army Chaplain. Any place in the world could be his parish."
Worldwide, the Army has more than 1,200 Chaplains. Ideally, there should be one Chaplain for every 800 men, but the shortage is critical. Each Chaplain is a college graduate, and has at least three years of graduate school. In addition, they are all graduates of the Army Chaplain School at Fort Hamilton, NY, where they are intensively trained for 12 weeks in Army organization techniques, military courtesy and military tactics. Upon graduation, he is commissioned to the rank of Captain. All six of the Brigade's Chaplains are Airborne qualified.
Besides ministering to the Paratroopers, the Brigade Chaplains are also deeply involved in community projects. With funds from an all denominational collection, the Chaplains along with the Brigade Civic Action Office supported a Catholic orphanage at An Khe, and donated to help rebuild a Buddhist temple near Bong Son. Community projects are joint efforts with all faiths represented in the Brigade pitching in what they can.
Chaplain Mulac lucidly explained the primary responsibility of the Army's men of cloth. It's up to us to show the men that the Army does care about their spiritual and moral well being. Sometimes for the Paratrooper kneeling in mud or seeing a close friend get hit, it is hard to believe, but we try our best to ease the burden.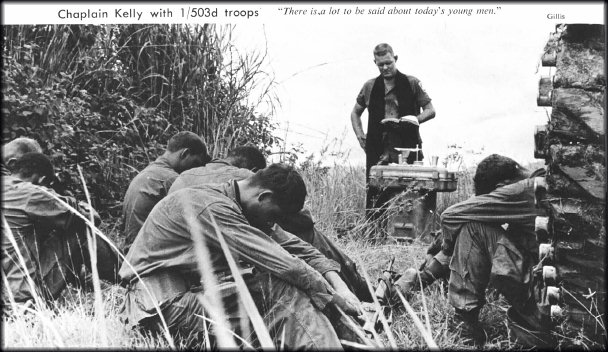 The Chaplains prefer to earn rather than demand respect from the men. "To do this, you must approach the men realistically," said Chaplain Kelly. If Chaplain Kelly happens to be nearby when a Paratrooper lets out with cussing and swearing that Paratroopers sometimes tend to do, he bellows, "HEY GARBAGE MOUTH!", and it's usually enough to end the most colorful tirade of adjectives. "The men can respect a man who treats them like a man," said one Company Commander. "Don't forget, these men are doing a tough job. Fancy lectures fall on deaf ears in the boonies."
Summing up the Chaplain's job perhaps most graphically is the inscription on Chaplain Mulac's steel pot. It says, "SMILE, GOD STILL LOVES YOU."

Pg 26 - 27
---
Deadly Four Deuce
By Sp4 Paul Sheehan
"Eight days a week and 25 hours a day," that's the life of a four-deuce Mortarman, said a Mortar Squad member from the 3rd Battalion, 503d Infantry, with a grim smile that indicated he might not be talking in jest.
A nearby Officer observed quietly that in an Army which emphasizes teamwork, the Mortarmen carry it to a science. "It's the only way they can be fully effective."
For the four-deuce man, day runs into night and night into day with little change. " In the morning we clean and register the weapon, then maybe a fire mission, get new ammo, unpack it and clean the gun again. That's our routine," said Sp4 John Stout of Echo Company, 2nd Battalion. "We have to be ready around the clock."
The four-deuce squad is comprised of five men, including a gunner, assistant gunner, charge cutter, ammo bearer and squad leader, who work together, live together, play together and think together.
"A mistake by any one man can ruin a mission," said Plt Sgt Jesse Castillo of Echo Company 3rd Battalion. "Each man in a squad must work hard to keep himself and his buddies straight. We've got some terrific crews."
At night, the Mortarmen normally take turns on guard and alternate firing of H&I's (harrassment and interdiction) which must be fired every night. Each evening there are also Delta Charlies (defensive concentrations) which must be fired for the Line Companies in the field.
The most exciting part, however, comes when the call of "Fire Mission" rings out and like five men to a fire engine, they race to their gun.
In December, Sp4 Stout's team, located several miles northeast of Bong Son at North English, was credited with 29 enemy kills in support of the ARVN's.
Occasionally, a Mortar crew will make direct contact with the enemy and put their M-16's to use such as was the case during a big firefight near Dalat when the Mortar Platoon of the 3rd Bn inflicted heavy casualties with small arms fire on an NVA sapper platoon.
With every Mortar Platoon, bridging the gap between the Line Companies and the gun crews, is an FDC or fire direction center. Also, each Line Company has a 4.2 Forward Observer (FO) in the field.
When the Companies make contact, the FO locates the enemy on his map, and calls the FDC, giving them the grid coordinates and type of target such as 'VC in the open'. The FO will also request the number and type of rounds.
The bread and butter round for the Mortarmen is the HE or high explosive, which weighs 26 pounds and has a bursting radius of 50 meters. Smoke rounds are used as spotters to verify accuracy.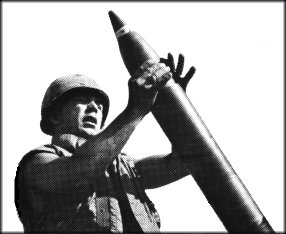 "You've got to build up experience to be a good FDC," said Sp4 Thomas Stauflfer, Chief FDC for four-deuce in the 2nd Battalion. "It takes a lot of cool to change the grid coordinates without making a mistake into deflections and elevations for the gunners under fire mission pressures."
One of the best FDC's is Sp4 Freddie DeMars, of Columbus, Ga., after spending a good while in the field as an 81mm Mortarman with Delta Company, 2nd Bn.
And so it goes, day in and day out, fire missions, adjustments, and tedious drudgery.
"But, it all pays off," said one Mortarman from Alabama as he stretched out in his hammock, "when we bring the max on Charlie."

Pg 28
---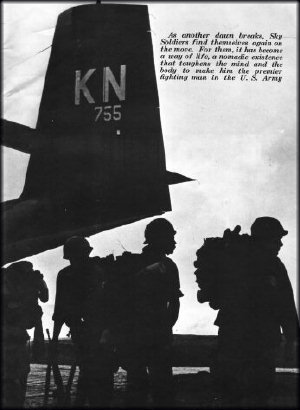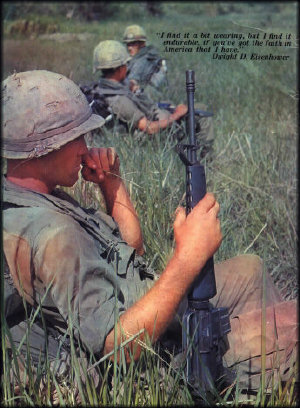 Rear Inside Cover and Rear Cover