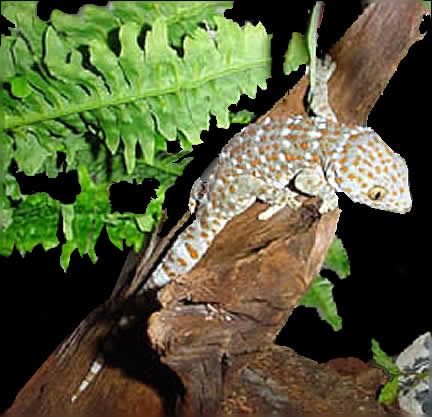 Tokay Gecko,
Gekko gecko
(Linnaeus, 1758)
Webmaster's Notes:
Tokay geckoes are nocturnal and have an unpleasant aggressive disposition and can inflict severe bites. They are among the largest geckos, with adults averaging 10-12" in total length. They usually have a greenish background color, sometimes more blue or gray, and numerous light blue and orange or red spots and some tubercular scales. The tails have bands of these colors. Males have noticeable rows of pre-anal pores around which there is often a visible yellowish waxy substance. Adult females are generally smaller and less robust than males.
The ears can be seen on the outside of the gecko as small holes on both sides of the head. It is possible to see straight through the head of these geckoes through their ears. Tokay Geckoes have a hearing range from about 300 Hertz to 10,000 Hertz.
Tokay Geckoes are solitary creatures. They only encounter the opposite sex during the breeding season. They will defend their territory against intruders of the same species and of other species, ensuring less competition for food. If their space is violated, they will fight.
Calls of the Tokay Gecko are used for communication, finding members of the opposite sex during the breeding season, and as a means of defense.