---
Company F was reactivated in Vietnam on 30 June 1971 as a rifle security company guarding the Da Nang installation under the command of the U.S. Army Support Command, Da Nang. It was inactivated on 16 November 1972. (Source: Stanton, Shelby L., 1986, "Vietnam Order of Battle", Galahad Books, New York, page 151).

HISTORIANS NOTE: I have "nailed down" the locations of both "E" and "F" Rifle Security Units. From the two sources we have thus far, it appears the two units were very close to one another...yet, strangely, each did not seem to know of the existence of the other! "E" Company apparently was based at Camp Baxter while "F" Company, also in the Da Nang Area was based at Camp Horn (BT 041-789). Shannon Nichols (Company "E") offered a solution; He suggests that the unit began as "E" Company at Camp Baxter...then... at some point early in 1972, the unit "stood down" at Baxter and moved to Camp Horn...where it became "F" Company and continued guarding the same installations! We have no "proof" of this... but this explanation makes the most sense...given the circumstances. Following are excerpts from my correspondence with a former member of "F" Company, John Ryan.
Most of the members of Company F, 50th Infantry (Security) came from a battalion from the "burning rope" Infantry Brigade (196th Infantry Brigade) which was the last Infantry Brigade to leave Vietnam in 1972. Company F was headquartered at Camp Horn in the Da Nang area (BT 041-789...grid is from T. Cochran's DaNang Web Page). Below left is Camp Horn as it appeared in the late 60's...and below right is a photo of the old French buildings that still stand on the site today.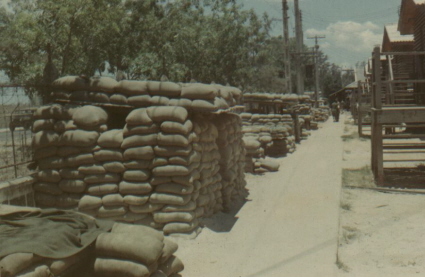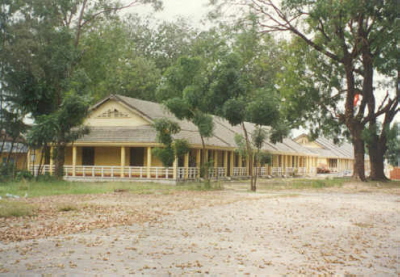 We provided security to the deep water port, 95th Evac Hospital and some other Military Posts I was not familiar with. The unit "stood down" in Oct-Nov of 1972. 13 members of the Company were KIA as the Chinook Helicopter they were taking from Saigon to their new duty Assignments in Can Tho... (Possibly with the 9th Infantry Division)...was shot down by a "SAM" (Surface to Air) Missile. We were being reassigned to rifle security teams throughout Vietnam. Their names are on the next to last tablet on the Vietnam Veteran's Memorial "Wall".
The 9K32M Strela-2 (SA-7 Grail) Surface to air missile

This missile was a shoulder fired missile that began to show up in the NVA Inventories in the South in 1972. This weapon caused much consternation in RVN...Huey Helicopters were modified with a scoop that sent hot engine exhaust into the rotors as the SA-7 was a "Heat Seeking" Missile.
The Security Company did prevent an attack at the deep water port by sapper swimmers during the spring-summer on 1972 which resulted in some enemy swimmers killed while attempting to place magnetic explosives on a ship in the harbor. The only other threats during that period were errant 122MM rockets aimed at the Da Nang Airbase that overshot their marks and hit near Camp Horn and the 95th Evac. Hospital. The enemy attacks were directed at B-52s that occasionally landed in Da Nang after being damaged on missions over North Vietnam and could not make it all the way back to their bases in Guam and Thailand. It was a sure bet that if you were in the Da Nang area and knew that a B-52 was at Da Nang...there would be a rocket attack forthcoming...usually the night following a B-52 arrival. Rockets took out the Da Nang PX and a favorite Korean restaurant on the base.
In August of 1972, myself and two others (all of us with multiple tours in Vietnam) were sent to Hue to guard General Cooksey's (Assistant Division Commander of the 23d Infantry Division (Americal) and the Deputy Chief of Staff for Plans and Operations, U.S. Army, Republic of Vietnam) CRYPTO van near the old Citadel.
John Ryan: Monument, Colorado
Another "F" Company man heard from!
We have confirmation that "F" Company also had a circular patch as did "E" Company...so I have reinstated the patch to the top center of this page.

Retired SFC Belford "Glen" Vaugh wrote: "On January 31st, 1972, the Engineer outfit I belonged to "stood down" and me and Joe Howell (or Howe....I'm not sure of the spelling) were sent to "F" Company, Security Police in Danang. I recall the 1st Sergeant was none too happy that they sent him 2 Engineers! I checked my 201 file and see I was in an 11 Bravo duty MOS for my stint in Rifle Security. We guarded various places in and around DaNang, including China Beach but I was mostly on Monkey Mountain. We also wore a round patch like the one you show on your "E" Company Security Web Page. I do not recall the names of the bases where we were headquartered, but our barracks were on the edge of Danang and the Compound was all Quanset Huts. At some point we moved to Barracks near the Airfield. I would love to find Joe. He was injured and sent home when he was accidently shot while on guard duty".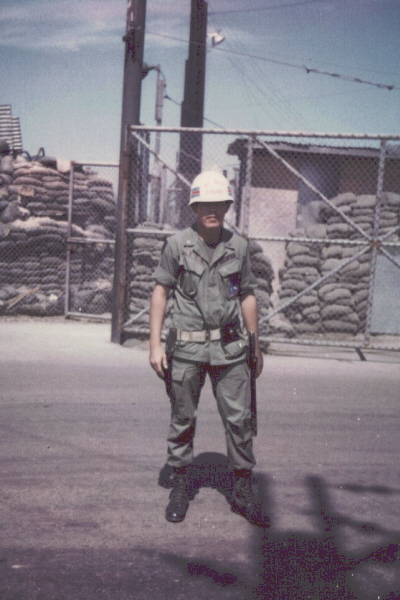 Pictured above is Glen Vaughn at China Beach Gate
---
Headquarters, United States Army Vietnam/MAC Support Command:
US Army Vietnam, Meritorious Unit Commendation--15 May 72-28 Mar 73, DAGO 13, 74




US Army Vietnam, Headquarters and subordinate units:
RVN Gallantry Cross w/Palm--20 Jul 65-28 Mar 73, DAGO 8, 74




Headquarters & Headquarters Company, USA Support Command, Da Nang:
RVN Gallantry Cross w/Palm--1 Mar-9 Oct 71, DAGO 6, 74



---
Vietnam War


Co. E (Rifle Security), 50th Inf.

Vietnam Counteroffensive, Phase VII, 1 July 1970--30 June 1971.
Consolidation I, 1 July 1971--30 November 1971.
Consolidation II, 1 December 1971--29 March 1972.
Vietnam CEASE-FIRE, 30 March 1972--28 January 1973.