---
The M-30 4.2inch Mortar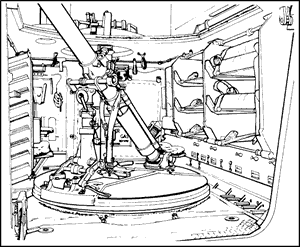 No longer in U.S. Army service, the M-30 4.2inch Mortar was phased out in the 1980s in favor of the newer NATO standard 120mm Mortar, M-120. However, the M-30 can still be found in use within NATO and other nations.

In the Mechanized role, the M-30 was transported by the M106 Mortar Carrier, part of the M113 family of vehicles. The APC provides basic protection from small arms fire as well as from shell fragments and has a limited amphibious capability. However, the M106 had to stop and set up to fire the weapon internally through open roof hatches. The weapon could also be dismounted for ground (or airmobile) use.

The 4.2 inch (107 mm) M30 mortar is a rifled muzzle-loading weapon designed for high-angle fire. It has a normal rate of fire of 18 rounds per minute for 1 minute, then 9 rpm for 5 minutes and then 3 rpm sustained.

---

Weight (with base plate, base ring, and sighting equipment): 626 lb.
Barrel assembly: 158 lb
Standard assembly: 58 lb
Bridge assembly: 151 lb
Rotator assembly: 57 lb
Base plate: 108 lb
Base ring: 100 lb
Sighting equipment: 4 lb

---

Ammunition Types:
Cartridge, HE, M-329A2 (842 yd - 7,480 yd)
Cartridge, WP, M-328A1 (842 yd -6,180 yd)
Cartridge, Illumination, M-335A2 (481 yd-6,003 yd)
(Illumination diameter of 875 yards)
Cartridge, Smoke, WP, M323A1
Cartridge, Tactical, CS, XM630
Cartridge, Illumination, M335A1
---
Early Days in Vietnam
Webmaster's Note: While we are waiting to gather enough information for this new section, Bob Gold sent me an email on the background of the Heavy Mortar Platoon in the early days in Vietnam. Seems like just as some fo the powers-that-be didn't understand how to use M113's in Nam, I guess there was a lot of confusion about the use of 4.2" mortars in the VIetnam War as well, which is understandable (in a way) because Army doctrine called for the 4.2" mortars to be at least 1,000 meters behind the front lines. (see Note 1.).

---

Bob Gold (in photo at left, Mike Craney treatsGary Miller (l) and Bob Gold (r) as they await dustoff) wrote: "Hi Ray. When we were in the 2nd Armor Division at Fort Hood before we deployed to Nam, we all had the 4.2" mortar in the tracks and the 81mm mortars were in each company mortar platoon. When we left Quin Nhon to go to LZ Uplift, we had the 4.2", but we kept changing from time to time. At Fort Hood, the Heavy Mortar Platoon was in Headquarters Company, but at LZ Uplift we were in Delta Company.

After a while they took out all the 4.2's except mine in Track 425 and used the 81's in the others. 425 had the only 4.2" mortar for a while, but after we hit the mine and destroyed the track, I was sent to Japan and later heard that the track was wasted and stripped.


In the photo above, Men from the 4.2" Heavy Mortar Platoon pose at LZ Ichiban in late 1967. Pictured from the left are Louis Frisbie, Harry Bloomquist (In Track), Bob Gold, Jim Wright (Holding Shell), and Craig Anderson sitting in front. (Photo Courtesy of Louis Frisbie)
Note 1. I know this well, because as a Vietnam veteran at Infantry Officers' Advanced Course I deliberately answered "false" to a question which read, "Heavy mortars shall always be placed at least 1,000 meters behind the front line." even though I knew the school solution was "true". Sometimes truth is more important than doctrine!